Shopping Basket
Your Basket is Empty
There was an error with PayPal
Click here to try again
Thank you for your business!
You should receive an order confirmation from Paypal shortly.
Exit Shopping Basket
Training, Consultancy and Technical Services
| | |
| --- | --- |
| Posted on 5 October, 2020 at 5:12 | |
Greetings folks, it's the end of September so time to see where Ted has been and what he's got to say about this month. In fact it's a belter, so put the kettle on and make a cup of tea, put your feet up and slip away into my world for a short while.
And I know I've said it before but any old friends, please, please don't be afraid to get in touch, I would love to hear from you (and I really don't care what your spelling or grammar is like, I'm not that hot myself).
This month, I have been to Lymington, Lyndhurst, Twickenham and Witney delivering training courses.
And now, for something completely different. When thinking about skills in the workplace, I believe it is really important to back up our core skills with transferable skills. A good example of an easily transferable skill is Project Management. If you can break down a task into a series of safe, efficient and achievable operations you can apply that to other disciplines. For example, a Building Services Project Engineer can usually take on any non-building related operation and put it into a realistic schedule. To do this he or she is aware that they will need to take advice from installers/suppliers and perhaps specialist contractors. Above all other traits they will realise that they need to talk to personnel, study existing processes and learn from past failures where possible.
So, if you are a school-leaver or if you are in the early stages of your working life try to remember about the transferable skills. You may have landed that dream job of surf board polisher, but will it offer regular employment and a great wage for the next few decades?
Even if you are lucky enough to become an electrician, we occasionally do come to periods where employment becomes more scarce. So it makes sense to check your employability from a prospective employer's point of view. Make sure your core qualifications are up to date, and if your existing employer offers training, any training, go for it. It might be PASMA, First Aid, Asbestos, Health & Safety, anything, take it with open arms (and mind). BUT, make sure you keep a record of it, without that it means nothing. AND don't wait until you need a job, put your CV and training record together NOW, so you know where to find it in a hurry.
So, talking of project management, here's a corker. Let me take you back in time to the Ashmoleum Museum, Oxford, New Year's Eve 1999.
If you are going to steal a painting this is the perfect time.
In fact, lets get specific. Lets go for a Cezanne. Now I'm no art expert but that's a name even I recognise.
So we'll zoom right in now. The painting we have set our sights on is Cezanne's Auvers-sur-Oise, valued in the region of £3 million.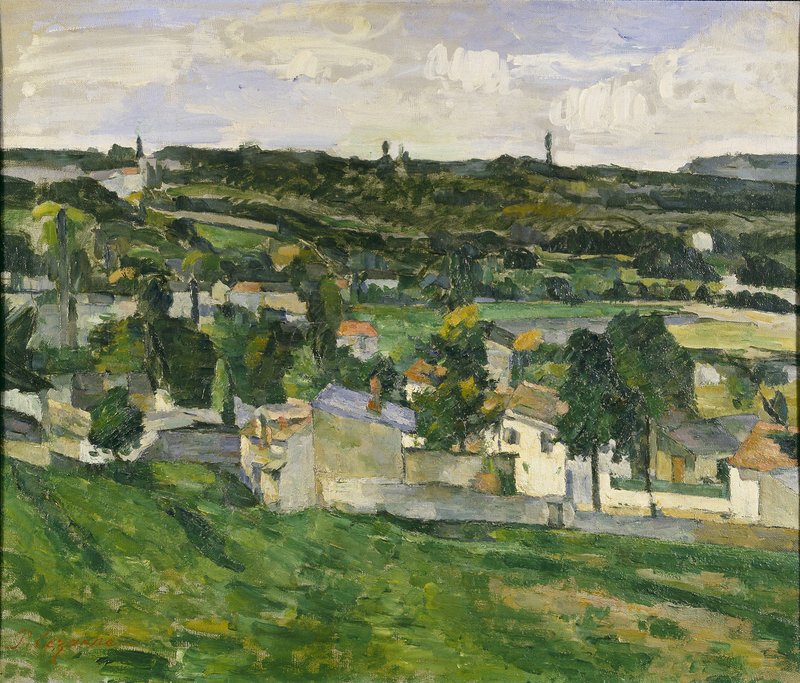 So, back to New Year's Eve 1999, just after midnight. We would be on the roof of the museum as there are building works taking place that involved the use of a ground to roof scaffolding, this was adjacent to a quiet side entrance to the museum and easily facilitated your ascent. Some of the key equipment about your person is a small jemmy, scalpel, smoke bomb, small rope-ladder and hand-held battery-operated fan.




It's now gone midnight and fireworks are going off everywhere. Remember, it's the Millennium.




There are two security guards on duty. You don't know if they are patrolling or sat watching a bank of video monitors. As it's New Years Eve and the next one like this will be in a thousand years' time, the guards may have decided to meet up for a quick snifter, who knows?




Time has moved on as you patiently waited, it's now 01:25 and time to move. You jemmy the open the skylight almost directly above your target. You secure the rope-ladder and toss in the smoke bomb. As you descend the ladder you activate the hand-held fan to waft the smoke around even more.




If the vibration sensor on the skylight hasn't activated the intruder alarm, the passive infra-red sensor in the gallery should have picked up your heat signature, so the alarm should now be sounding.




So let's stop and consider: Its New Year's Eve, Who's going to break into a museum on New Year's Eve? It's dark, there are fireworks and its noisy. But let's not forget Y2K, this was where it was predicted that all sorts of systems would crash and planes would fall out of the sky.




So if you were watching on a video monitor and clouds of smoke suddenly appeared along with the intruder alarm sounding you could have easily assumed that the air conditioning plant and Building Management System (BMS) had crashed.




So now, all the elements of perfect planning have come together.                     

What the planner has achieved is confusion.




So, put all of the above factors into the mix and it takes you just a few moment to get to the painting, use the scalpel to cut it from the frame, roll it down your trouser leg and climb back up the rope-ladder.




You clamber carefully back down the scaffold, take a deep breath and walk slowly down St John's street towards Wellington Square and fade into the night. You now have (in theory) 3 Million quid in your pocket.




With regard to details, in researching this incident I found the "Oxford Mail" next to useless. I think they have decided their future lies with appeasing academics and eco-nerks. The most exciting story you'll find in there will be about the new cycle lane installed outside the "pop-up multi-ethnic shop". You won't find any investigative journalism in this paper.




So where did I find a good source of information for this crime? The New York Times! What a sad state we are in. 




Nevertheless, I can't close this account without a few personal comments:




1)      Whoever planned this operation was a smart person. It certainly reveals an excellent Project Planner.




2)      All great inventions are simple, as was this plan.




3)      But, (and as they say, it is a big but) Why? Where can you sell this painting? You can't go to Sotheby's or Christies for a public auction. It's been estimated that it's black market value would be about £20K. Still a good profit for one night's work, but not enough for me to risk a few years at Her Majesty's pleasure.




4)      Its not even a particularly attractive painting (perhaps that's just me though).




5)      It wasn't me. I was at a Millenium party at West Oxford where I have plenty of witnesses to confirm I was there the whole time. Well at least most of it.




6)      It can't have been a dry-run for a similar operation because this plan relied heavily on the Y2K aspect.




7)      The idea of a "Raffles" type "Gentleman-thief" has endured through the years but is not very often accurate. Most crooks who engage in this type of activity are violent opportunistic characters who rely on blackmail, bribery and kidnapping to gain access to vaults and strong-rooms etc. And the image of the painting changing hands on a yacht in Monte Carlo for a suitcase full of diamonds is very appealing but not very realistic.




8)      I get the feeling there is more drama than reality about this incident. I did from the first moment I heard about it and I remain with the same feeling. The police have said they believe it was stolen to order and was probably out of the country within 24 hours. That's a nice idea from the police point of view – it shifts the problem off their patch. I'm not so sure.




For my money, I reckon the painting is still in Oxford. It could well be stashed inside the frame of another painting in the Junior Common Room of some much respected College. Stolen by students to prove a point or win a dare.




I hope I've given you something to think about, particularly with regard to transferable skills.




And now, like all good cowboys, its time to saddle up and ride off into the sunset until next month. Hasta la proxima!


Categories: My Diary

0

/