Shopping Basket
Your Basket is Empty
There was an error with PayPal
Click here to try again
Thank you for your business!
You should receive an order confirmation from Paypal shortly.
Exit Shopping Basket
Training, Consultancy and Technical Services
| | |
| --- | --- |
| Posted on 1 August, 2020 at 9:52 | |
Greetings pop-pickers, well that was another super-charged month wasn't it! Had my big fat birthday and numerous friends' as well. No weddings but a funeral on the last day of the month.
I think by now a lot of us have recognised that 2020 was the year to write off. Whoever would have thought that as we dreamt about the future where we were all wearing silver suits and in flying cars that the frigging Chinese would bring the world to its knees with an escaped bio-weapon?
However, it is in my character not to look on the bleak side but try to find the silk purse out of the wotsit…
Ted voice No 2: "Not to look on the bleak side" You're kidding right?
Ted voice No 1: Sorry about that folks but voice number 2 is my alter-ego who has an annoying habit of popping up when I don't want him.
Ted voice 2: You only want to supress my point of view, you've never liked me.
Ted voice 1: For those of you that are not regular readers of my blog Ted voice 1 is my normal, practical, good-natured self. Ted voice 2 is my, lets say, more adventurous side. He is the version of me that is the genie in the bottle. He is the free-spirited romantic who wants to go searching for lost gold in the Yukon and find the fabled lost city of Eldorado.
Ted voice 2: Ha, did you say "good-natured"! Every time I have bright idea you shoot me down.
Ted voice 1: I suppose that's true to some extent. Lets see what your last bright idea was, Oh yes I remember, was that when you wanted to salvage propellers from the Nazi fleet that was sunken in Scapa Flow? Or was it that time you were going to drag a metal detector through every Cornish lake in search of Excalibur?
Ted voice 2: There's good money in brass propellers.
Ted voice 1: Look just bugger off for a while and let me get on with this blog, some of us have work to do.
Ted voice 2: Bossy. I'm not staying where I'm not wanted. Anyway, I've got an old parchment with a secret message that I need to decode.
Ted voice 1: Thank God for that. We might get a bit of peace and quiet for a while now. To be fair, I secretly admire the guy cos he's never boring. Last year he persuaded me and my CO to visit the Three-Sided Lodge in Northamptonshire, where there are many messages in the stonework that have never been deciphered. Well it really was fascinating, the whole building is about the number three and linked into the Holy Trinity when Catholicism was forbidden in this country.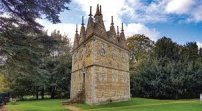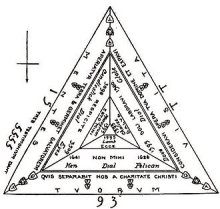 But guess what? We couldn't decipher any messages either.




Check it out for yourself here:







Anyway, onward and upward.




For those of you in the electrical trade, you might not be aware of it but a new Code of Practice for PAT will be issued in September (launch date variable due to Covid). From what I can make of it so far the emphasis seems to be removal of terms such as "Portable" and "Stationary" etc and the recognition of ALL appliances for testing, including those items of "Fixed" equipment that can be a grey area between PAT and EICR. Anyway, I'll have my two penn'orth when my copy of the code arrives.




On another note, I took a test ride on a new motorbike the other day. I think the time has come to trade in the old bike and move on. Now my current bike has got front disc brakes but the one I took out for a test ride has 2 discs. My current bike has brake shoes on the rear and the test bike has a disc brake to the rear so all in all I was pretty impressed, a lot of power (650cc) but a lot of stopping power as well. I will keep you posted if I buy it.




On the work front I am starting to get bookings coming back in. My only fear is that we may face a surge in training due to the backlog now in place. I don't like to disappoint clients and will try to help wherever possible.




So farewell until next month and to quote Bill & Ted – "be excellent to each other".   

Categories: My Diary

0

/