Shopping Basket
Your Basket is Empty
There was an error with PayPal
Click here to try again
Thank you for your business!
You should receive an order confirmation from Paypal shortly.
Exit Shopping Basket
Training, Consultancy and Technical Services
| | |
| --- | --- |
| Posted on 2 July, 2020 at 12:13 | |
Well that's June done and dusted then.
I resisted the urge to run "Skyclad" round Stonehenge at sunrise on the summer solstice for the longest day, nevertheless the days will gradually reduce now until the shortest day on December the 21st. 
It seems that we are beginning to come out of isolation now but its not over yet, I'm sure that random infections or waves of infections will bounce around for a while yet. Lets keep everything crossed.
As discussed in previous blogs, I'm fed up with so-called protesters and with a media system that feels it has a duty to whip up civil unrest. I'd like to see all those who want the BBC to be shut down come out and clap every Tuesday evening. I bet that wouldn't get reported.
At this point I shall share with you my view that all "recreational" drugs should be decriminalised. I have several reasons for this:
1)      Prohibition of alcohol in 1930's America did not work. It simply created an extremely profitable black market and the same applies today. If you make drugs illegal you create a certain cachet and desirability for that product.
2)      If you are a greedy prick that is not satisfied with beer, wine, spirits, tobacco, or life itself and you overdose then you are no loss to society. In fact, good riddance, so help yourself to as much as you fancy.
3)      Why generate so much cash for Colombian cartels for Afghan terrorists? let's keep the revenue for ourselves and put it into the NHS.
4)      The image of drugs, cars and women that look like prostitutes seems to be a factor in certain music videos. Its going to be increasingly difficult to stop and search those who aspire to this lifestyle so let's take one part out of that.
5)      The product available to junkies would be quality controlled and not cut with bleach and rat powder.
6)      Making "drugs" illegal is just plain stupid. If people want to do stupid things how can we protect them. I could walk into my garage right now and swallow or inject no end of toxic substances if I had a mind to.
7)      I think it was Orson Welles who foretold of television as an "Opiate of the masses" and this to a large extent is of course true. Similarly, if recreational drugs were freely available, a high percentage of those jerks who were recently protesting about nothing would have been too blitzed on good quality shit to move out of their squat.
To back this up, I'm simply saying decriminalise usage and make these drugs cheaply available at Chemists. We would still need to prosecute and punish driving offences and lock up those using in public and causing public order offences.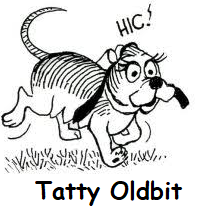 Now going off at a tangent for a while and as you know, I'm not one to gossip, but we know someone who carried on with a well-known old tart a while back. What made us crease up with laughter was the fact it was called his "affair" which I suppose is intended to give an air of elegance and mystique. As an established groper of whatever he can get his hands on this made us laugh even more. To give you a little background there used to be a cartoon strip in a British newspaper called "The Perishers". Now, in this strip was a character (a dog) called "Tatty-oldbit" and that pretty much describes his bed-buddy. All will be revealed in a future episode. I think that's enough information for the moment but we are still chuckling.




So moving on. It doesn't matter what trade you are, be it Sparky, Plumber or whatever, we can all be guilty of not practicing what we preach. With this in mind, I have found these past few months extremely useful in catching up with all those jobs that I kept putting off. Apart from all the other DIY and gardening projects from an electrical point of view, this is what I have finally achieved:




·         Shed and Greenhouse now on split RCD board with independent earth electrode.




·         New DB (All RCBO) installed in Garage with circuits from main DB migrated into.




·         New Main DB (All RCBO) installed in house.




And for the purists, I have untwisted all the ring circuit CPCs at the DBs as well!




Talk about "Physician heal thyself".




Looking forward to holidays next year, some places remain old favourites that we will certainly visit again but there are also some other locations that have caught our eye.




We like Cruises, Lodges and Hotels. We don't really like staying with friends as we enjoy our freedom too much. The great thing nowadays is that with google earth you can drive around a venue and check it out in advance.




We also need to catch up on a few venues in this country when the world comes back again.




In closing, there is an old cowboy saying that goes something like "May your sunsets be long and your trails be happy". I like that, what more could anyone ask for.




Adios until next month mi amigos y amigas. 




Categories: My Diary

0

/